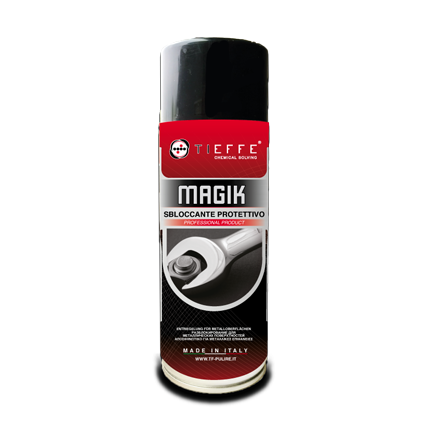 MAGIK
Solvent-based water-repellent protective spray
MAGIK is a penetrating, releasing, water-repellent, protective, lubricating, cleansing, deoxidizing and anti-corrosion spray with water-repellent capacity. It contains protective and anti-corrosive agents with water-repellent capacity that form a very thin, non-reactive protective layer that does not crack.
MAGIK spray protects the treated parts for over 2 years if stored in closed rooms, up to 6 months if covered outdoors and for at least 160 hourr from the saline mist.
It offers the following benefits :
Magik spray is safe on all metals
It can be easily removed with alkaline solutions, emulsions and solvents
It is easy to apply
It is economical: On the average, 1 litre can protect more than 200 m
APPLICABLE SPECIFICATIONS
MAGIK complies with MIL-C-23411 type I. It also meets the specifications: MIL-C-16173D gr.III, and the codifications NATO C-634 and DEF. STAN – 68/10/2.
Details
PH: N/A
State: Aerosol
Scent: No-scent
Application
Temperature: Ambient
Concentration: ready to use
Storage
Temperature: +10°C ÷ +30°C
Shelf life: 60 months