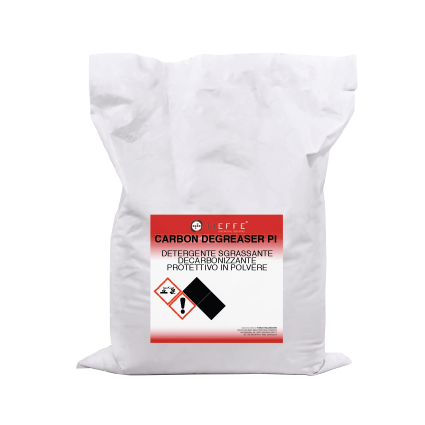 CARBON DEGREASER PI
Protective inter-operational degreasing detergent for ferrous metals and aluminium
CARBON DEGREASER PI is an alkaline formulation in powder form that contains a rust inhibitor. It was made to be sprayed in a rotating drum cabin or to be dipped in a tank with stirring in order to remove oil stains, grease and grime in general from disassembled engine parts or from parts being machined. It can also be used on aluminium, zinc and cadmium plated parts, but only if sprayed on.
If you want to get inter-operational protection (between one process and the next), the parts must not be rinsed.
Main sectors of use: car shops, machine shops, machinery and metalworking factories.
Details
PH: 13
State: Granular pwder
Scent: Odorless
Application
Temperature: +35°C ÷ +60°C
Concentration:
1% ÷ 3% spray
4% ÷ 6% in immersion
Tools: spray machine, immersion tank, rotating drum cabin, warm brush
Storage
Temperature: 10°C ÷ +30°C
Shelf life: 24 months