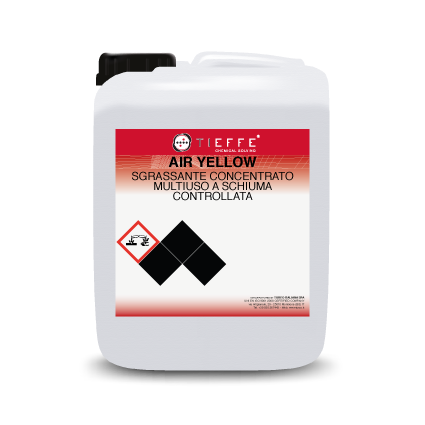 AIR YELLOW
Concentrated liquid detergent
AIR YELLOW is an energetic general use liquid detergent that is safe on all painted and unpainted, metallic, plastic, etc. surfaces.
AIR YELLOW is a yellowish alkaline formulation with controlled foam and a characteristic scent that can be used AFTER DILUTION to remove grime, dust, protective oil film, grease, light carbonaceous deposits, atmospheric smog, etc. from metallic or plastic surfaces such as vehicles, machine tool bodies, containers, floors, aluminium panels, air conditioning filters, etc.
AIR YELLOW rinses easily and leaves the surfaces without any streaks or stains caused by water hardness. It can be used on all metals an on most plastics, such as Plexiglas, melamine, skai, etc.
Details
PH:12.5
State: Yellow liquid
Scent: no scented
Application
Temperature:  +10°C ÷ +30°C
Concentration: Pronto all'uso
Application: Manual, immersion, washer-dryer, brush cleaner
Storage
Temperature: 5°C ÷ +30°C
Shelf life: 24 months