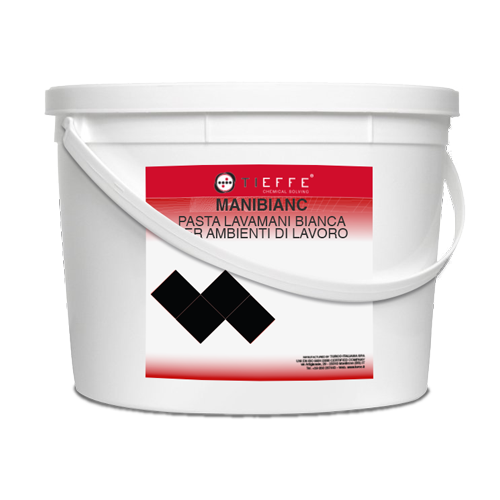 MANIBIANC
White handwashing paste with glycerine
MANIBIANC is a professional handwashing paste suitable for use in the workshop and anywhere an energetic cleansing action is required to remove engine grime and grease.
MANIBIANC quickly removes workshop grease, dirt, inks and grime from the hands and leaves them perfectly clean and irritation-free after application. It differs from the traditional pastes due to its creaminess, high concentration of soaps and total absence of wood meals and siliceous sands. It is a pleasantly fragrant paste product that contains a calibrated mixture of soaps, emulsifiers, softeners and light abrasives. MANIBIANC is ready to use, is perfectly soluble and if used properly, does not cause clogging in drains.
Details
PH:  N/D
State: Creamy white paste
Scent: Pleasant
Applications
Temperature:  +10°C ÷ +30°C
Concentration: Ready to use
Storage
Temperature:  10°C ÷ +30°C
Shelf life: 24 months