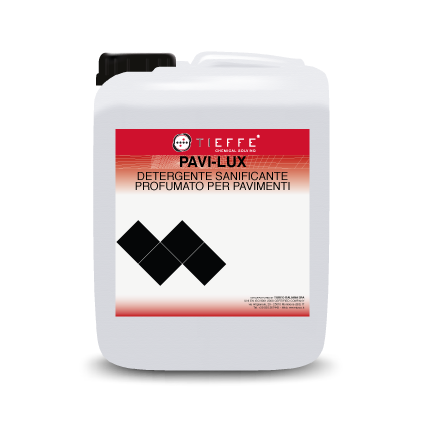 PAVILUX
Scented sanitizing detergent for floor cleaning
PAVILUX is a sanitizer and detergent containing quaternary ammonium salts, which sanitize, deodorize and clean all in a single operation. It is used in all types of sectors, from factories to communities and homes.
PAVILUX is a rose-coloured neutral low-foam liquid detergent product that is pleasantly and intensely scented. It can normally be used with a sponge, rags, towels or sprayed. It is particularly effective for eliminating odours of waste store-rooms.
Package: Box with 4x5kg can
Details
PH: 11
State: Liquid
Scent: Floral
Application
Temperature: +10°C ÷ +30°C
Concentration: 0,5% ÷ 3%
Strong sanitizing: 1:2 ÷ 1:3

Storage
Temperature: Ambient
shelf life: 24 months