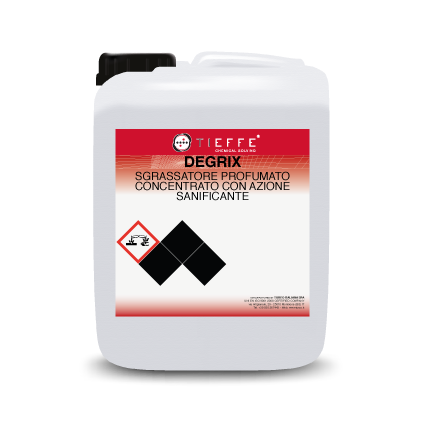 DEGRIX
Scented NTA-free concentrated degreaser with sanitizing action
DEGRIX is a scented super-concentrated detergent with an energetic degreasing power. It is a general use water-based, non-inflammable formulation that combines a sanitizing action with a cleansing action.
DEGRIX is designed for cleaning and quick sanitization of all equipment and surfaces, particularly for those in stainless steel, but it is also used for cleaning and sanitizing painted and unpainted surfaces, metals (including aluminium) and does not eat into Plexiglas.
DEGRIX is used in car shops, but thanks to its sanitizing power it is also widely used in the foodservice industry and in public places such as hotels, schools, hospitals, etc.
It removes grime, dusty, oily film, grease and light carbonaceous deposits.
In normal use conditions, DEGRIX is a controlled foam product easy to rinse off without leaving scratches, stains or deposits on the surfaces.
It is mixed with water, which minimises disposal and dumping problems.
Details
PH: 12.6
State: Liquid
Scent: Marsiglia fresh
Application
Temperature: Ambient
Concentration: 2% ÷ 5%

Storage
Temperature: 5°C ÷ +35°C
Shelf life: 24 months