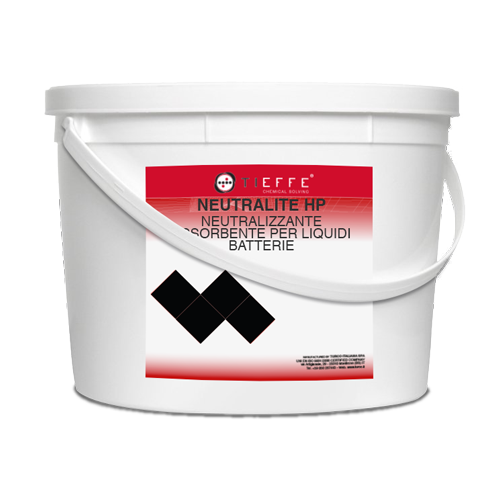 NEUTRALITE HP
Absorbent neutralizer for battery fluids
NEUTRALITE HP is an indispensable product for the absorption and neutralisation of acid liquids, particularly for 36% sulphuric acid (1.27 kg/10 m3).
NEUTRALITE HP is unlike other similar products due to its very high absorption and neutralising power that lets it optimally absorb and quickly neutralise acid liquids, which when accidentally spilled risk polluting the soil or workplace.
It was tested by the Department of Analytical Chemistry of the University of Turin and complies with the prescriptions of Italian Law no. 308 of 15 January 2004 (Art. 195, paragraph 2, letter S) and no. 152 of 3 April 2006 (Art. 195, paragraph 2, letter Q), and of Italian Legislative Decree no. 20 of 24 January 2011 of the Ministry for the Environment and Land Conservation.
Details
PH: 8.5
State: Granular powder
Scent: Odorless
Application
Temperature: Ambient
Concentration: Ready to use

Storage
Temperatur: Ambient
Shelf life: 60 months