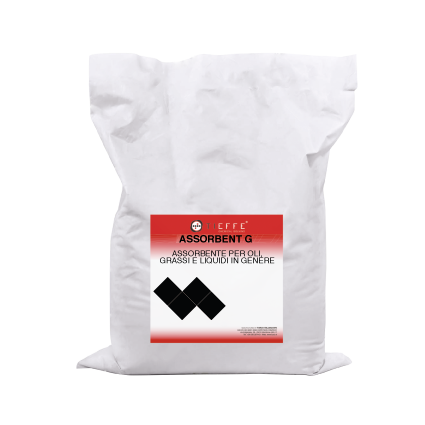 ASSORBENT G
Absorbent in large granular powder form for oils, greases and liquids in general
ASSORBENT G is a powerful mineral absorbent in large granular powder form obtained from a special production procedure (calcination at 800°C). It exercises its absorbent action on oils, greases, fat, acids and any other type of liquid in general, with a high retention capacity so it covers a large surface area as compared to its unit of weight.
It is used in factories, at construction sites, in workshops and anywhere it is necessary to intervene if there are spills.
Benefits of ASSORBENT G:
It non-inflammable, does not catch fire even if saturated with oil and grease, and eliminates fire hazards
It is non-slip, so it eliminates the danger of slipping on floors grimy with grease or oil
It is safe because it is made with inert materials and contains neither acid nor abrasive materials.
It is inexpensive and absorbs while it is being sprinkled on the floor. It is used until it becomes black and shiny.
Details
PH:  8
State: Granular powder
Scent: Odorless
Application
Temperature:  Ambient
Concentration: Ready to use
Storage
Temperature:  Ambient
Shelf life: 36 months