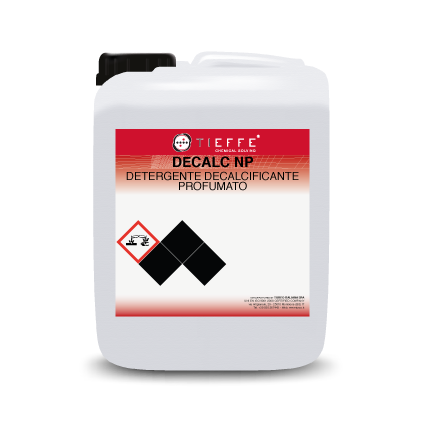 DECALC NP
Scented decalcifying detergent
DECALC-NP is an acid descaler detergent made to meet the needs of communities and homes by simplifying maintenance, sanitizing, descaling and cleaning operations.
It contains buffered acids, calibrated surfactants, sanitizers, corrosion inhibitors, fragrance agents and DOES NOT CONTAIN PHOSPHATES or phosphorus by-products; therefore, it is indicated for decalcifying dishwashers, coffee machines and heating coils. Since it is less aggressive than phosphoric acid and hydrochloric acid, it does not eat into metal surfaces.
DECALC-NP removes limescale residues, mineral stains, grime and with just one swipe, and at the same time it destroys the bacteria that hide in the grime.
It is used to descale stainless steel, aluminium and copper alloys of pots, taps, showers, burners, etc., ceramic in bathrooms (sinks, toilet bowls, etc.).
Plentiful rinsing with water afterwards is recommended.
Details
PH:  <1
State: Liquid
Scent: Pleasant
Application
Temperature:  +65°C ÷ +80°C
Concentration: 3% ÷ 8%
Tool: Ultrasound machine
Storage
Temperature:  5°C ÷ +35°C
Shelf life: 24 months