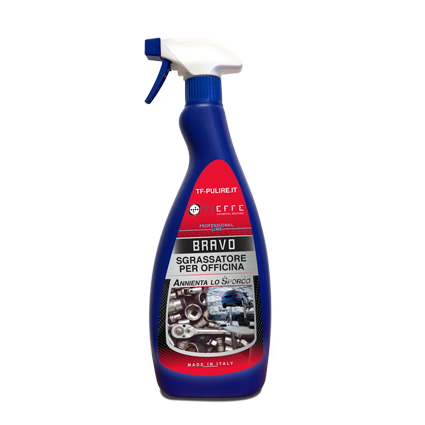 BRAVO
Energetic ready-to-use degreasing cleaner
BRAVO is a ready-to-use degreasing cleaner for all painted and non-painted, metallic and plastic surfaces found in workshops, cars, factories, motor homes and boats. It is particularly rich in active ingredients that detach the most stubborn grime in just a few seconds, like oil or protective film, grease, light carbonaceous deposits, atmospheric smog from car engines, rims, garage and workshop floors, oil stains, aluminium panels, air conditioning filters, etc.
BRAVO can be used on all metals and is highly recommended for shelving, worktops, engines, rims, oil stains, floors, tiles, ovens and workshop material. It is safe, has no risk classification, is not harmful, is non-toxic, is not aggressive, and it can also be used on aluminium, light alloys and painted surfaces in total safety.
It is not inflammable, is non-abrasive and contains no ammonia or phosphates.
Package: Box with 15 bottles of 750ml
Details
PH:  11
State: Liquid
Scent: No scent
Application
Temperature:  Ambient
Concentration: Ready to use

Storage
Temperature:  5°C ÷ +35°C
Shelf life: 24 months